This is EGG!
EGG is a Volunteer English Guide Group.

We guide you around Ueda city and explain about the highlight of Ueda.
In English!

More information about us and tourist attractions in Ueda
Click here


More Ueda : Tourist Attractions
Click here


More Ueda : Ueda City's Facebook page
Click here


The latest news in Ueda.
2018 Cherry Blossom Festival in Ueda
April 7th(Sat.) to April 22th(Sun.)
In Session

More information
Click below
2018 Cherry Blossom Festival Flier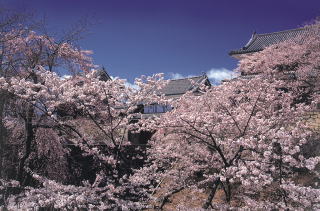 Ueda castle and cherry blossoms in April

This combination of the castle site and cherry blossoms is one of the most beautiful scenic landscapes in Japan


Please contact us by e-mail address below, when you need a tour guide.
It is free.
kkkkoda2003@yahoo.co.jp




City Guide Menu 1 (Central Ueda)
| | | | |
| --- | --- | --- | --- |
| VOL..1 Ueda City | VOL.2 History | VOL.3 Industry | VOL.4 Famous Products(1) |
| VOL.5 Famous Products(2) | VOL.6 Ueda Park&Ueda Castle | VOL.7 Ueda Castle(1) | VOL.8 Ueda Castle(2) |
| VOL.9 Ueda Castle (3) | VOL.10 Ueda Municipal Museum | VOL.11 Yamamoto Kanae Memorial Museum | VOL.12 Sanada Taiheiki Museum |
| VOL.13 Shonano Kokubunji Temple | VOL.14 Drum Perfprmance | VOL.15 Tea Ceremony | |
City Guide Menu 2 (Bessyo-onsen&Shioda)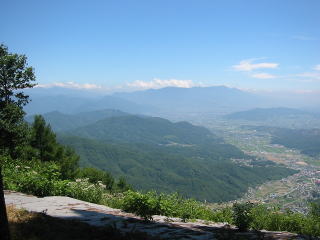 Our City from the top of the near mountain




Ueda City

A range of mountains over 1000m high surround Ueda City. The ChikumaRiver, which is the longest river in Japan, flows through the central part of Ueda Basin towards the Sea of Japan. Ueda is around 460m above sea level.

The climate is generally mild and the area has few natural disasters. The annual rainfall is 900mm, one of the lowest in Japan, and as a result there are over 100 artificial ponds used for irrigation in Shiodadaira, the region's granary.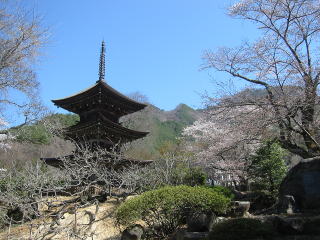 Three-storied Pagoda of Zensanji Temple

History

Ueda was first established as the provincial capital of the Shinano (now Nagano Prefecture) in the Nara Period (the 8th century).

The Hojo family, one of the most important retainers from the Kamakura Shogunate, introduced the Kamakura culture to this area in the 13th century. Many buildings from this period can still been seen to today, such as the three-storied octagonal pagoda of Anrakuji temple, which is designated as a national treasure.

During the Sengogu period (the 16th century), the feudal lord Sanada Masayuku constructed Ueda Castle. His son Sanada Yukimura, became well known through out Japan as 'the top soldier in Japan' for his excellent exploits and the strength in battle.

From the 17th century to the middle of the 19thcentury (the Edo period), Ueda prospered as a castle town. The original town now forms the central part of Ueda city.

Ueda was given city status after merging with neighboring towns in 1919 and went on to become one of the top silk-producing areas of Japan, prospering as the 'Silkworm Capital'.

Ueda City now has a population of 126,000 and is the third largest city in Nagano prefecture. As well as boasting a long tradition as a castle city, it also promotes science and research in information technology.